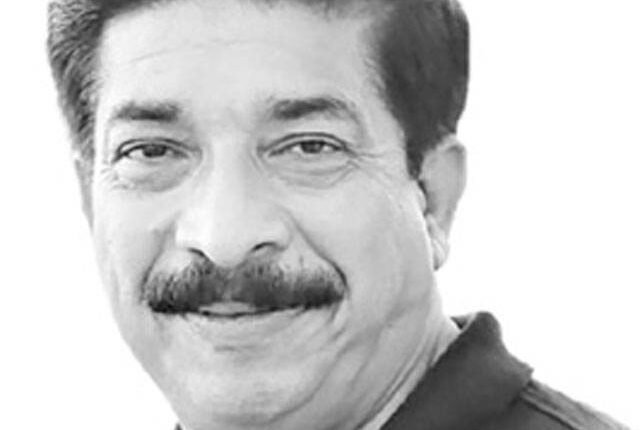 Age, legal woes and presidential ambitions by Dr. Imran Khalid
With the US presidential election looming just a year ahead, the Democrats find themselves in a disconcerting predicament. Recent polls have sent ripples of concern through their ranks, as they unveil President Joe Biden trailing behind his predecessor, Donald Trump. In a telling survey conducted by Harvard CAPS-Harris, 44 percent of respondents expressed their inclination to vote for Trump, while only 40 percent pledged their allegiance to Biden. A notable 15 percent remained in the fog of uncertainty.
Adding to the unease, the CBS News poll in partnership with YouGov indicated a razor-thin margin, with Trump edging ahead of Biden by a mere one-point differential, tallying 50 to 49 percent. Age takes center stage in the political theater as the presidential contenders, Trump at 77 and Biden at 80, vie for attention. In this high-stakes performance, Biden's age and well-being loom large in voters' thoughts. CBS' poll echoes these concerns, revealing a mere third of voters confident in Biden's ability to complete a second term. Meanwhile, 43 percent believe Trump appears 'energetic enough' for presidential duties, a stark contrast to the meager 16 percent who hold the same conviction for Biden's health and endurance on the grand stage. Amid these developments, apprehensive Democrats are increasingly urging Biden not to seek re-election, citing concerns about his age and the fact that he is currently running neck and neck with Trump in polls. His supporters counter that Trump is nearly as old and often exhibits incoherence in public speeches. Moreover, they argue that nearly every first-term president faces similar polling parity with hypothetical opponents a year ahead of re-election.
As Donald Trump, despite his legal entanglements, revs up his bid to outshine his Republican rivals, the Democratic camp is grappling with a distinct dilemma concerning President Biden: the unforgiving factor of age. Following an unsettling and cringe-worthy news conference misstep in Vietnam, Democrats scrambled to resuscitate his image by unearthing a campaign video from the preceding February, set in Ukraine. There, he strides resolutely alongside President Volodymyr Zelenskyy, seeking to portray a man of vigor, one who holds his own even amidst the tumult of war zones. Yet, the stark reality remains that the Vietnam debacle has sown seeds of doubt among Democratic voters regarding his physical aptitude for a second term bid. Simultaneously, Trump's populist style exerts a broader allure, particularly among younger voters who perceive it as emblematic of robustness and vigor. A recent poll has revealed a prevailing sentiment that characterises Biden's leadership style as calm and predictable, which, in itself, may not be an undesirable trait. However, it also underscores a prevailing belief among voters that the United States requires a 'tough' president—a quality not typically associated with Biden, but rather attributed to Trump.
At the age of 80, President Joe Biden exhibits signs of advanced age, characterised by stooping posture, sentence lapses, and a tendency to stumble during news conferences. His public gaffes have raised pertinent questions about his capacity to serve effectively as president. While these concerns may indeed raise doubts about his capability, he still enjoys steadfast support from the Democratic Party elite. This loyalty persists despite recent polling data that underscores a striking statistic: a resounding 70 percent of Americans believe another Democratic candidate should be leading the charge. At the moment, Democratic Party leadership is firmly throwing their support behind Biden, yet a sense of uncertainty pervades the party's grassroots, casting doubt on whether he is their strongest contender for 2024. This growing rift within the party represents an unprecedented level of disunity, primarily centered on Biden's age; raising legitimate concerns about his ability to weather the rigors of another term. The prevailing sentiment seems to be that Democrats are not enthusiastic about the prospect of Biden's renomination. However, the pricking question remains, if not Biden, then who? However, the predicament lies in the fact that none of the prominent figures within the Democratic top leadership is currently being seriously contemplated as a viable alternative to Biden.
Further complicating matters for the Democratic Party are Biden's dwindling approval ratings, as revealed by a CNN poll, which pegged his approval at a mere 39 percent, while a striking 58 percent of respondents believe that Biden's policies have exacerbated economic conditions in the United States. Against this backdrop, the untimely emergence of legal troubles surrounding his son, Hunter Biden, casts a dark cloud over the President's crucial re-election bid, potentially becoming a defining factor in the 2024 campaign. Admittedly, Joe Biden has never been a charismatic orator like Barack Obama or Bill Clinton. His speech has been marred by a lifelong struggle with stuttering, and he often falters off-script. Biden's strengths have historically resided in the realm of Washington-style deal-making and political alliance-building, honed over decades of political service, not in eloquence. It is also a fact that that the Republican party appears to be in disarray, with their ill-advised impeachment attempts against Biden and a penchant for televised theatrics over policymaking. However, Trump's physical vitality stands in stark contrast to Biden's frailty, potentially shaping the upcoming political landscape.
Donald Trump, in his typical style, bullied President Biden by igniting the 'Biden is too old' during a recent radio appearance. Trump remarked on the intriguing nature of age, asserting that while some individuals remain sharp, others may falter, but usually not at Biden's age. Trump, only three years younger than Biden, however, contended that Biden's issue was not age but rather gross incompetence. He drew parallels with Winston Churchill, who assumed the role of British prime minister for the second time at the same age as Trump, highlighting Churchill as an example of a great leader. In the coming 14 months leading up to the 2024 election, a significant portion of the American public may perceive an equivalence between Mr. Trump's ongoing legal trials and the legal troubles involving Mr. Biden's son. This equivalence, however, belies the stark contrast in the nature of the charges: Trump faces grave accusations, some of the most serious imaginable, while Hunter Biden's infractions involve minor technical violations of the law. However, the unfolding presidential landscape promises to be exceedingly intricate, especially given the unusual dynamics at play, where factors such as age and legal battles may ultimately determine the outcome.