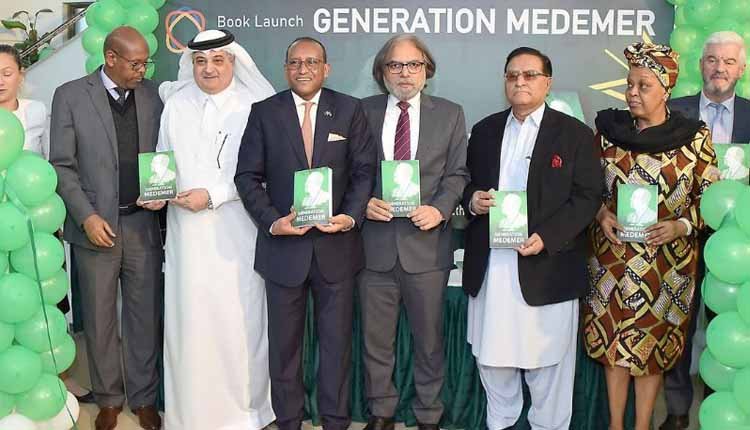 Prime Minister Abiy Ahmed's "Generation Medemer" Unveiled in Pakistan: A Blueprint for Unity and Collaboration
Islamabad: The Embassy of the Federal Republic of Ethiopia in Pakistan launched "Generation Medemer," a book authored by Ethiopian Prime Minister Dr. Abiy Ahmed, promoting a way of life centered on collaboration, cooperation, and unity. Dr. Abiy Ahmed, a Nobel laureate, has successfully implemented his Medemer vision, emphasizing interdependence and togetherness in Africa's second most populous nation.
The launch ceremony, held at the Ethiopian Embassy, featured Waseem Ajmal Chaudhry, Secretary to the Federal Ministry of Education, as the chief guest. The event drew the participation of diplomats, politicians, government officials, members of parliament, media, and civil society. Ambassadors from Saudi Arabia, Portugal, and Kenya, along with the Chief of Mission of the Turkish Republic of Northern Cyprus, were present.
Ambassador Jemal Beker Abdullah elaborated on Prime Minister Dr. Abiy Ahmed's Medemer philosophy, highlighting its emphasis on cooperation, solidarity, and interdependence. He commended Dr. Abiy Ahmed for leading a transformative journey in Ethiopia, fostering a way of life based on collaboration and bringing about a holistic societal change.
The ambassador expressed pride in Ethiopia's visionary leader and prolific writer, who has authored three books outlining a comprehensive strategy for building a resilient and exemplary nation. He underscored the importance of inter-generational connectivity for creating an ideal and resilient nation.
Highlighting Ethiopia's progress, the ambassador noted that the country is now led by a visionary leader who has diligently worked to build a strong political, economic, social, and legal system. He emphasized that Ethiopia's foreign policy reforms, including the opening of the embassy in Pakistan, reflect Prime Minister Abiy Ahmed's strategic approach to geopolitics and cultural diversity.
The Federal Secretary for Education lauded the positive change brought by Prime Minister Abiy Ahmed in Ethiopia, emphasizing the significance of the "Medemer Generation" concept in addressing challenges and building a strong and vibrant country. The president of the Africa-Pakistan Association, Zafar Bakhtawari, shared insights into the transformative impact of the Medemer philosophy during his visit to Ethiopia.
"Generation Medemer" is the latest addition to Abiy Ahmed's literary contributions, following "Medemer" and "Medemer Journey." The book, available in Amharic, Afan Oromo, and English languages, serves as a blueprint for unity, collaboration, and societal harmony.