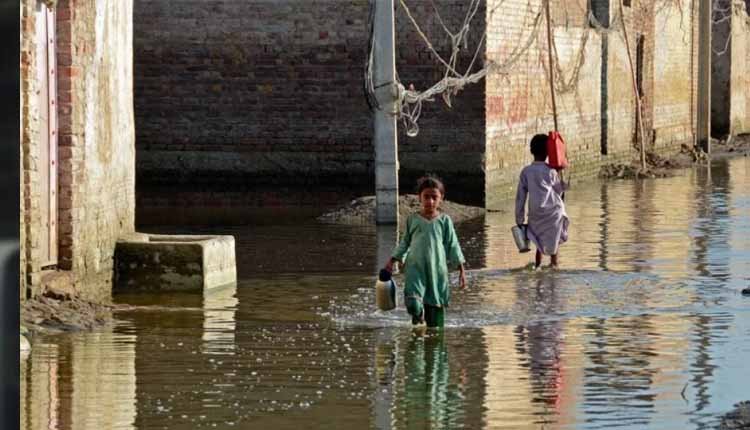 Four Million Children In Pakistan Have No Safe Water, A Year After Deadly Floods
One year after catastrophic floods devastated swathes of Pakistan, some 4 million children in the South Asian nation remain without access to safe water, the United Nations children's agency has warned.
In a news release Friday, UNICEF said it estimates that there are 8 million people in the country, around half of whom are children, who continue to live in flood-affected areas without clean water.
"Vulnerable children living in flood-affected areas have endured a horrific year," Abdullah Fadil, UNICEF Representative in Pakistan, said in the statement.
"They lost their loved ones, their homes and schools. As the monsoon rains return, the fear of another climate disaster looms large. Recovery efforts continue, but many remain unreached, and the children of Pakistan risk being forgotten."
Flooding caused by record monsoon rains and melting glaciers in Pakistan's northern mountain regions last year claimed the lives of nearly 1,600 people – more than a third whom were children – and impacted an estimated 33 million more.
The floods submerged a third of the country, with the force of the floodwater washing away homes, leaving tens of thousands stranded on the road without any food to eat or clean water to drink.
About 30,000 schools, 2,000 health facilities and 4,300 water systems were damaged or destroyed, UNICEF said.
"The climate-related disaster deepened pre-existing inequities for children and families in affected districts," UNICEF said in the statement.
"One third of children were already out of school before the floods, malnutrition was reaching emergency levels and access to safe drinking water and sanitation was worryingly low."
As the floodwater began to recede, a plethora of water-related diseases began to infect thousands – many of whom were children.
Parents desperately tried to seek help as their children became infected with diarrhea, dysentery, dengue fever and malaria.
The flooding came as Pakistan was already grappling with a severe economic crisis, further compounding the economic misery of millions, pushing families into poverty and leaving many unable to afford essentials such as food, fuel and medicines.
The country's predicament has been further complicated by political turmoil that has engulfed the nation in recent months after former Prime Minister Imran Khan was arrested on corruption charges, sparking deadly protests.
Khan was dramatically ousted from power in a no-confidence vote last year, after numerous accusations of bad governance, including economic mismanagement.
He claims the allegations against him are political and being steered by the country's powerful military.
Last month, the International Monetary Fund (IMF) approved a $3 billion bailout for Pakistan, giving the cash-strapped country a moment of reprieve in what has been a tumultuous year.
Until recently, the government had imposed tight import and dollar outflow controls, which stifled private sector activity, according to an April report by the World Bank.
But one condition of the IMF loan was that Pakistan let the country return to a market-based exchange rate, "which suggests the authorities now have limited room or appetite for currency intervention," according to Shivaan Tendon, emerging Asia economist at Capital Economics.
Analysts say this may have contributed to a crash in Pakistan's rupee this week, with the currency currently trading at 301 to the US dollar.
"We see the unfortunate consequence of a panic run when IMF terms force the government to open up trade," said Stephen Innes, managing partner of SPI Asset Management.
Tendon also said the country was seeing higher imports, which was "likely to have put some pressure on the currency as demand for [US] dollars rose."
"There seem to be a few factors at play," he told.
"Several emerging market currencies have come under pressure as dollar-denominated assets became more attractive due to the jump in US bond yields. Pakistan's rupee is particularly vulnerable to risk aversion among investors due to elevated inflation, unfavorable fiscal dynamics and a wide external financing gap."
Meanwhile, Pakistan's poverty rate has reached a staggering 21.9%, covering more than one fifth of the population, according to IMF data.
The crushing poverty has driven many to flee the nation. Widespread hunger and rising prices have caused stress, anxiety and despair.
In April, during Islam's holy month of Ramadan, hundreds of people lined up on the streets for a single bag of free flour, leading to deadly stampedes and chaos.
UNICEF also warned earlier this month that the effects of the climate crisis and other extreme weather phenomenons are having a devastating impact on children in South Asia.
Nearly half a billion children in the region are exposed to extreme high temperatures as life-threatening heat waves caused by the climate crisis become stronger and more frequent, it said.
Its analysis of 2020 data showed an estimated 460 million children in countries including Afghanistan, India and Pakistan were exposed to temperatures where 83 or more days in a year exceeded 35 degrees Celsius – making South Asia the hardest-hit region for those under age 18.
Fadil from UNICEF said the agency has called on the government of Pakistan and its partners to "increase and sustain investment in basic social services for children and families."
He added: "We cannot forget the children of Pakistan. The flood waters have gone, but their troubles remain, in this climate volatile region."