'InshAllah, Dobara Nahi Aounga' – Robbery Video With Gupshup Over Mehengai Goes Viral!
A CCTV footage showing a robber mugging a shopkeeper in Karachi is making rounds on social media. However, it is not the kind of robbery that you get to hear of. In fact, seeing the 'polite' robbery will leave you rather baffled, and amazed at the same time.
In the footage, the robber can be seen approaching the shopkeeper beside whom a child is standing. He then flashes him a gun. A scene that plays out on the streets of Pakistan almost on daily basis, only this time there was an unusual twist.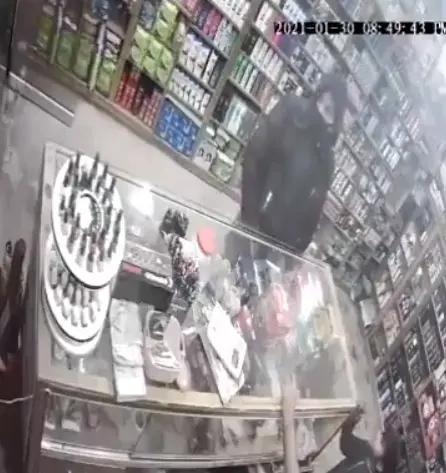 According to the CCTV footage that has come to the limelight, the man entered the shop and asked the shopkeeper to put all money in a plastic bag. However, the unusual sight begins when the robber is seen engaging in a rant with the victim.about:blank
As he takes the shopkeeper's money, and products from the shop, the two chat about the inflation in the country, cursing the prime minister for it. In addition to this, the video also shows the shopkeeper agreeing to whatever the robber says and understands the circumstances that have led him to mug him.
Here is the footage of the robbery
Netizens can't decide whether to cry or laugh
COVID-19 & crime
With COVID-19 drastically impacting employment, the crime rates have surged in Pakistan. Moreover, the globally changing law-enforcement landscape has immensely affected the crime patterns in Pakistan as well.
With the novel outbreak pushing millions into unemployment and poverty, the crime rate is bound to soar. As a result of being unable to meet their expenses, the oppressed end up committing robbery and other crimes to fulfill their needs.
Last year, a viral video on social media depicted how robbers first tried to rob a food delivery boy but later on assuaged him as the delivery guy was crying. A bizarre turn of events puzzled Pakistanis across the country when they saw the looters hugging the victim. They were seen not only shaking hands with him but also returning all his possessions. 
Be as it may, the video has brought tears in many eyes and exhibited that it is rather the circumstances that force a person to take the wrong step. Besides, it is an established fact that robberies are rampant in Karachi; even people in disguise try to loot the locals.