When bands like Strings, Noori, and other Pakistani pop bands have found their audience. A new band emerged Jal in which Farhan Saeed named guy attracted everyone with his voice and later acting.
Farhan Saeed is the current most famous and handsome actor in Pakistan. Earlier, he captured everyone's attention with his delightful voice.
His songs were mesmerizing and touched everyone's heart, especially girls. When the band Jal broke, Farhan Saeed found another hidden talent and that's acting.
Farhan Saeed's acting initially didn't grab his fan's attention, but later he just made everyone shocked with his evolution in acting and he started getting different roles too.
Of course, being a huge celebrity comes with controversies and bold statements. His life wasn't easy at the beginning as well.
Here, you get to know everything about Farhan Saeed, from Farhan Saeed age to Farhan Saeed wife & family background.
Farhan Saeed Biography
Farhan Saeed was born on September 14, 1984, in Lahore, Punjab, Pakistan. Coming to Farhan Saeed family, he belongs to a Punjabi Muslim family from Lahore, Pakistan. He has a younger brother named Saim Saeed who is also a musician and a member of the band "Aaroh". There is not much information available about his other family members.
Talking about Farhan Saeed's education, he attended Crescent Model Higher Secondary School in Lahore, Pakistan for his primary and secondary education.
He then pursued a degree in computer science from the National University of Computer and Emerging Sciences (FAST-NU) in Lahore.
However, he did not complete his degree as he left his studies in his final year to pursue a career in music.
Farhan Saeed Early Musical Career
Farhan Saeed was very passionate about music, as mentioned for music he left his studies and that's where you can see his endless dedication.
Farhan Saeed started his music career as the lead vocalist of the Pakistani band Jal in 2003. The band became popular with their debut album "Aadat" in 2004, which included hit songs such as "Aadat" and "Woh Lamhe". Farhan's unique voice and soulful singing style quickly gained him a huge fan following in Pakistan and other countries.
After a few years, Farhan left the band Jal to pursue a solo career in music. In 2010, he released his first solo single "Kyun Gayi" which was well received by the audience. He continued to release several successful singles and collaborations over the years, including "Pi Jaun" and "Sajna" which became very popular.
Farhan Saeed also made his acting debut in 2014 in the Pakistani drama serial "De Ijazat Jo Tu" and has since appeared in several other TV dramas and films.
Departure From Jal
Farhan Saeed's departure from the band Jal in 2011 was due to creative differences with the band's guitarist and composer, Goher Mumtaz.
The two had different visions for the band's music and direction, which ultimately led to the split. After Farhan's departure, Jal continued with a new vocalist, but they were not as successful as they were with Farhan as the lead vocalist.
However, both Farhan and Goher have since pursued successful solo careers in music and have released several hit songs and albums.
Despite the split, Farhan has acknowledged the important role that Jal played in launching his career and has remained grateful to his former bandmates.
Few months back, Farhan Saeed and Gohar both shared a selfie that sparked a big rumor of them reuniting.
Entry In Acting
Farhan Saeed made his acting debut in 2014 with the Pakistani drama serial "De Ijazat Jo Tu". He played the lead role of Azar in the serial, and his performance was well received by the audience and critics alike.
After his debut, Farhan continued to appear in several other TV dramas, including "Udaari", "Sila", and "Prem Gali". He has also acted in Pakistani films such as "Tich Button" and "Suno Chanda 2".
Farhan's acting skills have been widely appreciated, and he has received several nominations and awards for his performances. Despite being a successful musician, Farhan has shown a keen interest in acting and has expressed his desire to continue working in the entertainment industry as an actor.
Farhan Saeed has been very vocal, he has said several things regarding dramas and responded netizens in his style. At the time when critics were criticizing Pakistani drama's content, he said "Change the channel, if you don't like it then".
His political views are also straightforward, recently with the hike in petrol prices, he sent a special message for the Pakistani awaam.
Farhan Saeed Popularity In Acting World
Farhan Saeed played the lead role of Arsal in the Pakistani TV drama series "Suno Chanda", which aired during the Islamic holy month of Ramadan in 2018. The drama was a massive hit in Pakistan and internationally, and Farhan's performance received critical acclaim.
Farhan's portrayal of Arsal, a fun-loving and mischievous young man, was widely appreciated by the audience.
Farhan's role in "Suno Chanda" played a significant role in his rise to fame as an actor. The drama not only showcased his acting skills but also helped him reach a wider audience outside of the music industry.
Farhan Saeed Personal Life
Urwa Hocane avoids tiff with Farhan Saeed at Qasim Ali Mureed, Sadia Jabbar's wedding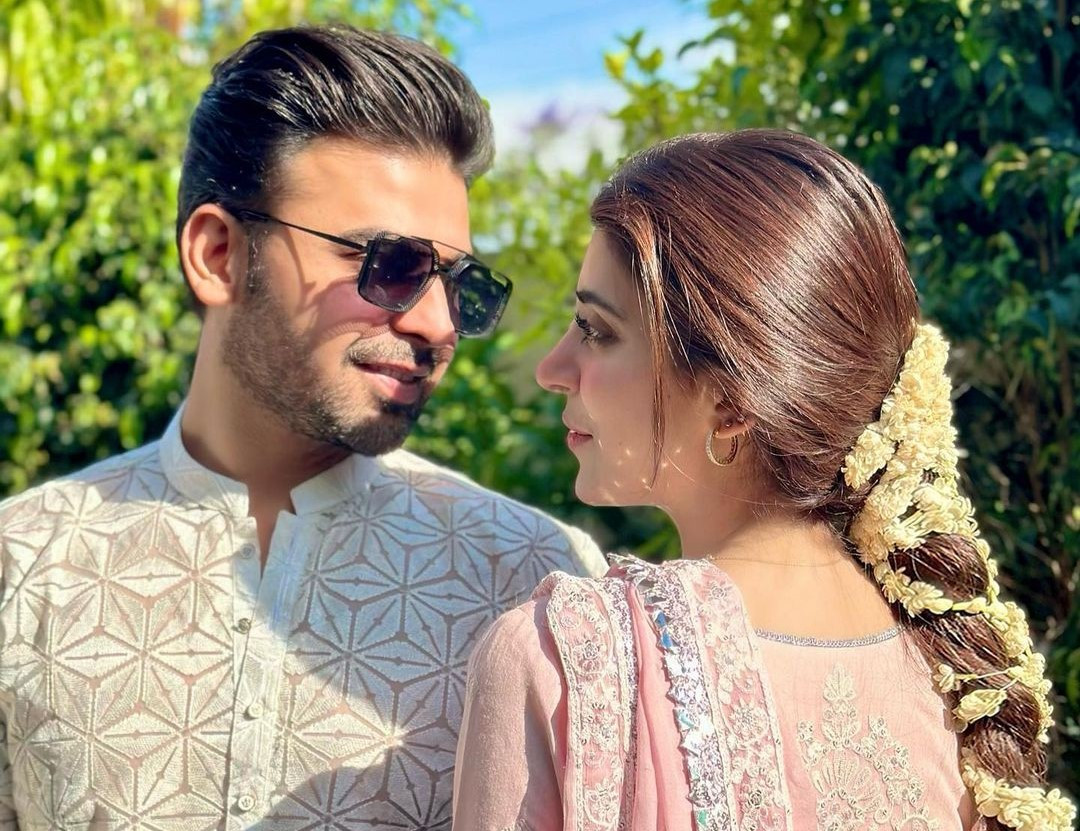 Farhan Saeed was dating none other than Urwa Hocane, earlier when the rumors spread all over the industry no one believed it but they both brought it in front of everyone.
They have become a celebrated couple in the industry. The two got married in December 2016 in Lahore, Pakistan, after dating for several years.
Farhan Saeed wife, Urwa Hocane is also a well-known actress and model in Pakistan, and she has appeared in several TV dramas and films. She has also worked alongside Farhan in a few projects, including the TV drama serial "Udaari", "Meri Shehzadi" and the film "Punjab Nahi Jaungi".
However, in 2020, the couple announced their separation and confirmed that they had filed for divorce. The reasons for their separation were not disclosed, and both Farhan and Urwa requested privacy and respect during this difficult time. Despite their separation, they have remained professional and continue to work together on projects.
Farhan Saeed's Awards & Achievements
Iqra and Farhan Saeed bag Best Actor awards for 'Suno Chanda' – Daily Times
Farhan Saeed has received several awards and nominations for his contributions to the Pakistani music and entertainment industry. Here are some of his notable achievements:
Lux Style Award for Best Music Video Director in 2012 for the song "Kyun Gayi"
Pakistan Media Awards for Best Song "Pi Jaun" in 2013
Hum Award for Best Original Soundtrack "Ranjha Ranjha Kardi" in 2019
Lux Style Award for Best Singer in 2020 for the song "Akhian" from the movie "Baaji"
Nominated for several other awards, including the ARY Film Award, Pakistan International Film
Festival Award, and Hum Award for Best Singer and Best Actor.
Farhan Saeed's band Jal also received several awards and nominations during their time together, including the MTV Asia Award for Favorite Artist India and the Lux Style Award for Best Album "Boondh" in 2008.
Farhan Saeed's Dramas
Farhan Saeed has done some great dramas in his acting career. Here are the notable dramas of his career:
Meri Shehzadi
Badshah Begum
Pir Shahzaib
De Ijazat Jo Tu
Ishq Ibadat
Mere Ajnabi
Mere Humsafar
Hamza
Prem Gali
Hamza
Teri Chah Mein
Sila
Suno Chanda (S-1)
Suno Chanda (S-2)
Udaari
Ever since Farhan Saeed shifted his gears and headed to the acting world. He has changed himself for another passion. Farhan's performances in these dramas have been highly praised by the audience and critics alike. He has showcased his versatility as an actor, playing a range of characters from romantic leads to more serious and complex roles. His on-screen chemistry with his co-stars has also been widely appreciated. His ongoing drama "Jhoke Sarkar" as an ASP Officer Arsalan is also winning hearts across border.
In addition to his acting career, Farhan Saeed has also contributed to the soundtracks of several TV dramas and has received awards and nominations for his work in this field.